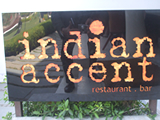 Fusion Indian food, the kind that you can easily sample now at smart restaurants in New York or London has never really succeeded in India. For that matter, neither has regional or "Muglai"-Punjabi succeeded in any high-end restaurant environs—other than perhaps the success of ITC restaurants like Bukhara and Dumpukht. As a food critic, I feel a big reason for this is the fact that in India, the quality of food that we cook and eat at home is so high (even middle class families employ cooks and so even laborious cooking is not that much of a chore) that we Indians rarely want to eat our own kind of food when we are eating out.
The only time that we really miss having a great standalone Indian restaurant with a contemporary look and service but great khana is the time when we are entertaining foreigners. Now, there is an option that you can unhesitatingly choose—for yourself on a special occasion or while entertaining:
Indian Accent is a new restaurant at The Manor, a quiet boutique hotel at Friend's colony, New Delhi. The look is understated and quite plain and very contemporary. The service is wonderful with the restaurant being looked after by a charming (European?) young woman called Julia—who has taken pains to learn everything about the Indian recipes and explains each of the dishes to us wonderfully in her accented English while casually chatting all the time. This is a big relief if you are generally irritated by the kind of obsequious or indifferent service usually extended to diners at Indian restaurants. But it is really the food that catches your breath.
You can try a tasting menu paired with wine (lot of New World stuff here, by Charles Metcalfe) to get a fair idea of what the team of chefs is really capable of. We began with wholemeal and semolina puchkas (gol gappas, pani puri) with many different kinds of flavoured water—pineapple, pomegranate, and so forth, a chicken tikka salad that is arranged on crispy khakras (like very thin crust bread or papads) and then the most-talked about dish of the menu arrives: Galawat ke kebabs stuffed with foie gras. But honestly, this does less for me that I could have imagined. Galawat ke kebab or galautis, melt-in-the-mouth mince kebabs that are so tender because raw papaya is used to tenderize the meat, is a traditional recipe that I just adore. The Foie gras does nothing to alter the taste and is, in fact, wasted because you can't even taste it (the galautis have a lot of fat by themselves, fatty goose liver does nothing more…) On the other hand, I think the tandoori Scottish salmon covered in dill leaves was just brilliant. For the mains, I loved the red snapper moilee, in a mild coconut sauce, as well as the masala morels with chestnuts that are served alongside a crispy dosa, rice pancake. One of the most innovative presentations that I have seen. I also liked the couscous tahiri, spiced the Indian rice way. Desserts? There's a Bailey's chuski and a Chawanprash Cheescake, that is definitely more appetizing than it sounds.
All in all, I believe that the restaurant will do well. It is time that fusion-Indian cooking comes to India. Dinner, non veg Rs 1,900 pp; lunch Rs 900 pp. Lunch, non-veg: Rs 1800 pp; veg Rs 800 pp
Add Rs 1000 pp for 5 half glasses (75 ml) of wine
www.themanordelhi.com. The Manor, 77 Friends Colony West, New Delhi. T: 26925151