Archive for Indian Restaurants
You are browsing the archives of Indian Restaurants.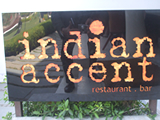 Fusion Indian food, the kind that you can easily sample now at smart restaurants in New York or London has never really succeeded in India. For that matter, neither has regional or "Muglai"-Punjabi succeeded in any high-end restaurant environs—other than perhaps the success of ITC restaurants like Bukhara and Dumpukht.
Recently, the Singapore-based Miele Guide asked me to be part of their jury to vote for Asia's best restaurants. This is for the second consecutive year that I have been asked to do this, though I must say that I wasn't to happy about what eventually turned up last year: Not many Indian restaurants were mentioned, the guide was heavily Singapore-centric and amongst the winners, the lone Indian, Bukhara, was as clichéd as cliché can be.